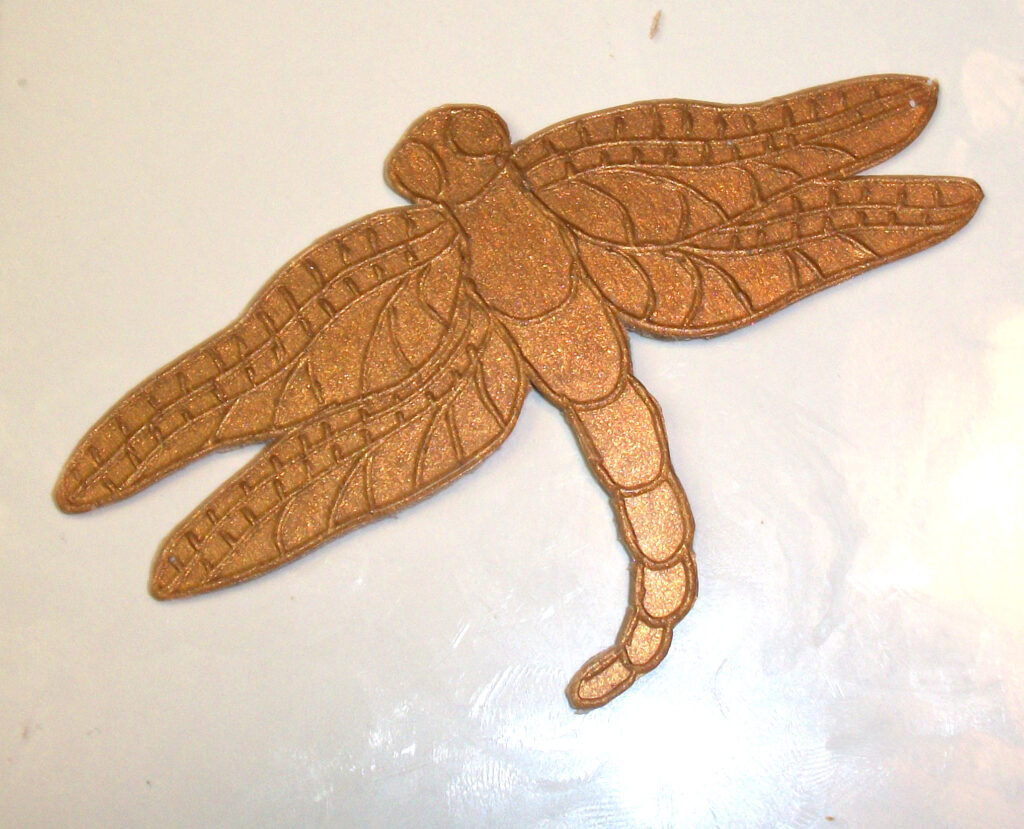 Carved Silicone Veneer
This workshop features creating your own silicone molds taking advantage of your design ideas rather than a purchased mold created by another artist. You will need a silicone carving sheet and a simple linoleum cutter. Once you carve away the unwanted areas, then layers of liquid clay create the veneer. After removing from the silicone sheet, the veneer can be filled in with more liquid clay and colorants of your choice for unique pieces of art to be used as desired.
---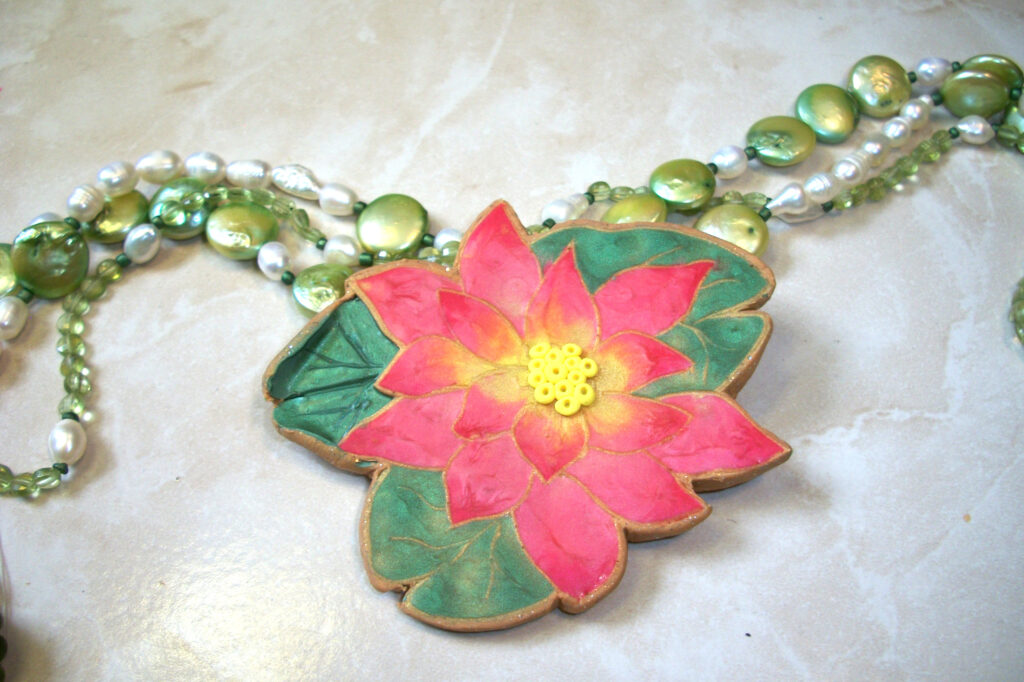 Carved Silicone Veneer Pendant
Once created, your silicone molds can be used any number of times with either liquid or solid polymer clay to create pendants/pins. Larger pieces of silicone are also available to create unique wall art as well. This workshop explores the various uses for the molds in creating unique pieces of art based on your design ideas.
---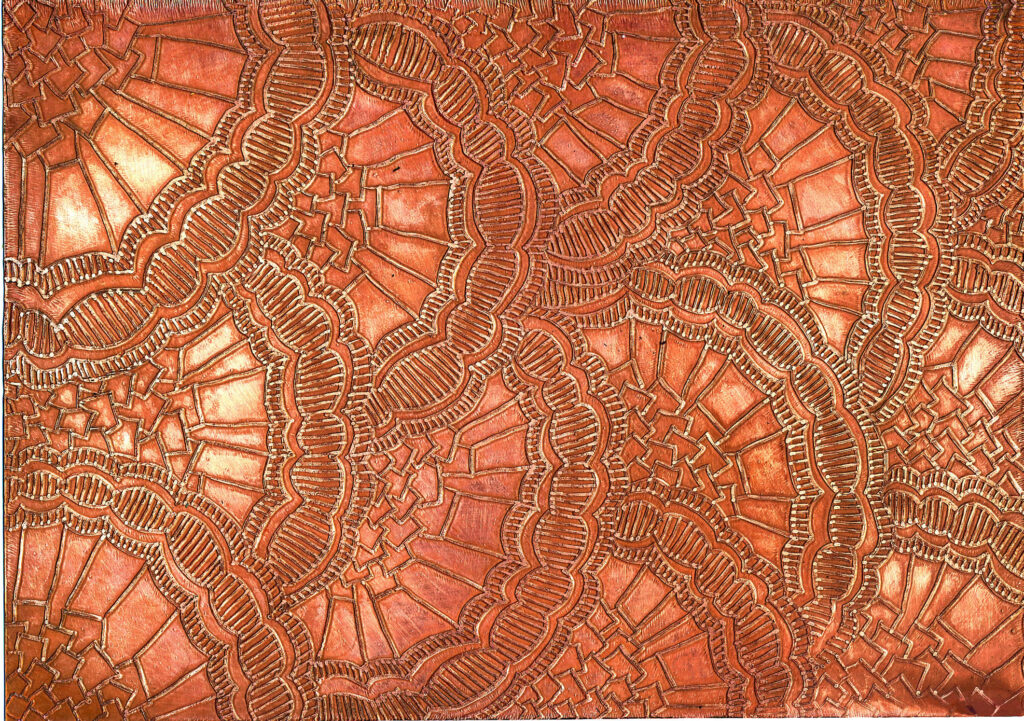 Copper Etching
Hand etched copper plates are wonderful molds for liquid clay veneers or cut into pieces for mixed media artwork. This workshop explores a dependable method of creating these unique and beautiful additions to your toolbox.
---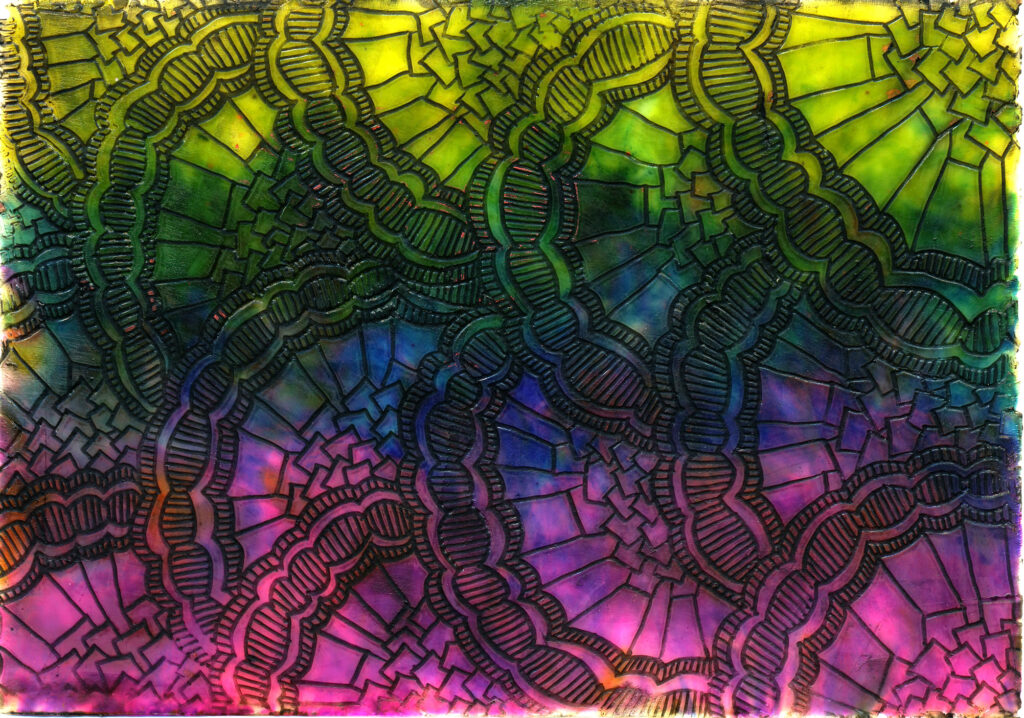 Copper Etching Veneer
This workshop uses the etched copper plates to make thin veneers using liquid clay and colorants. These veneers can then be cut to fit jewelry settings or if large enough, pieces of art. Changing the colorants will provide a large inventory of unique veneers for jewelry or other artwork.
---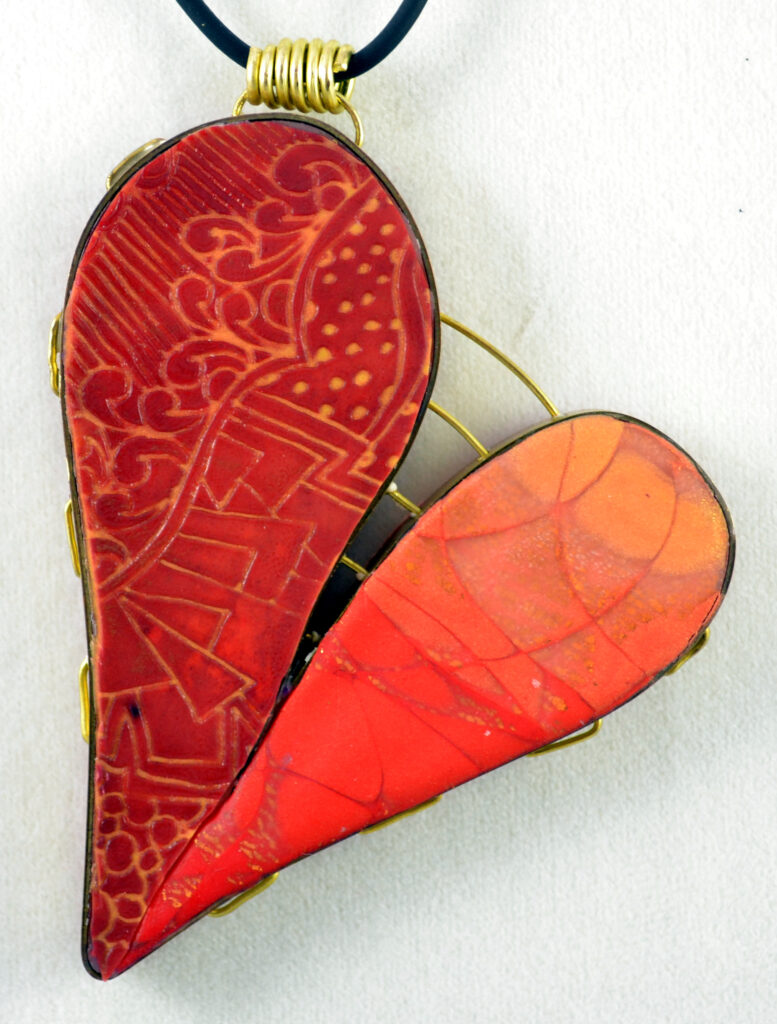 Copper Etching Veneer – Broken Heart Pendant
This workshop uses the veneers from the etched copper plates as well as other veneers (including Mokume Gane) in creating a heart pendent in a brass strip and wire frame. An exploration of the wire weaving technique will reveal that this framing technique can be used for other shapes and applications as well.
---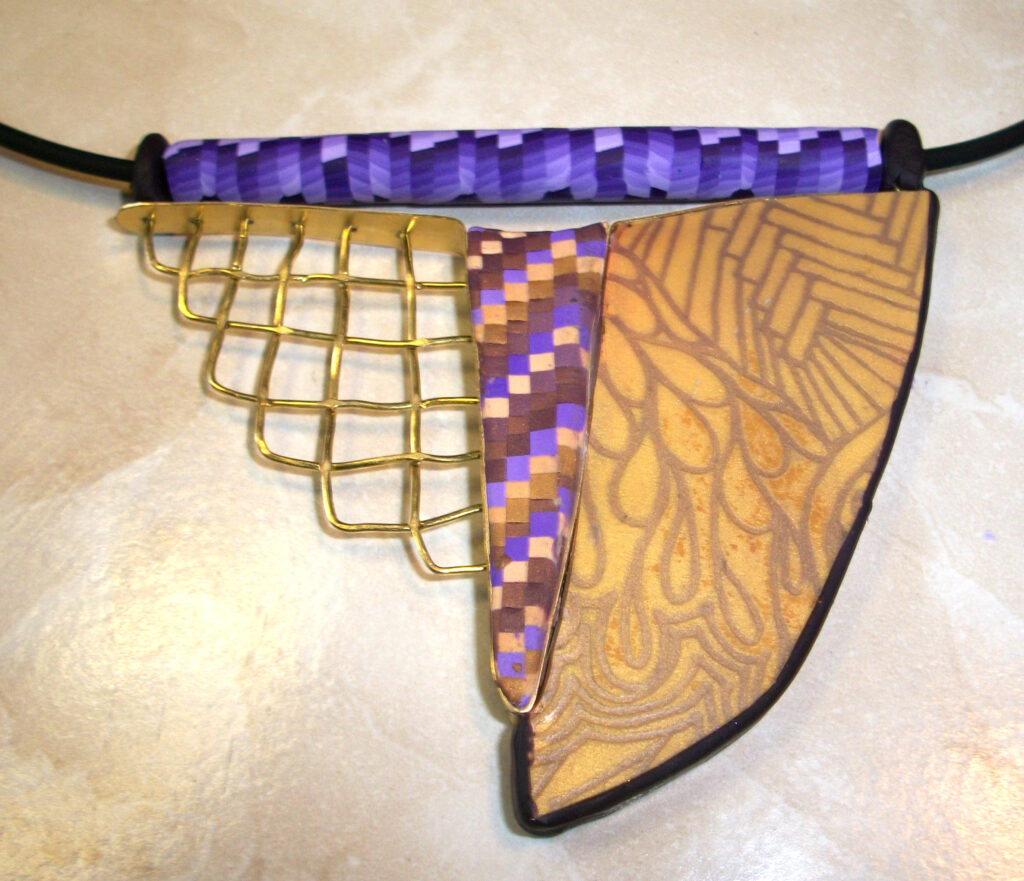 Copper Etching Veneer – Open Weave Pendant
This workshop expands on the previous broken heart pendants with new shapes and designs. Also covered in this expanded class is the use of the etched copper sheets themselves and layering the various types of veneers.
---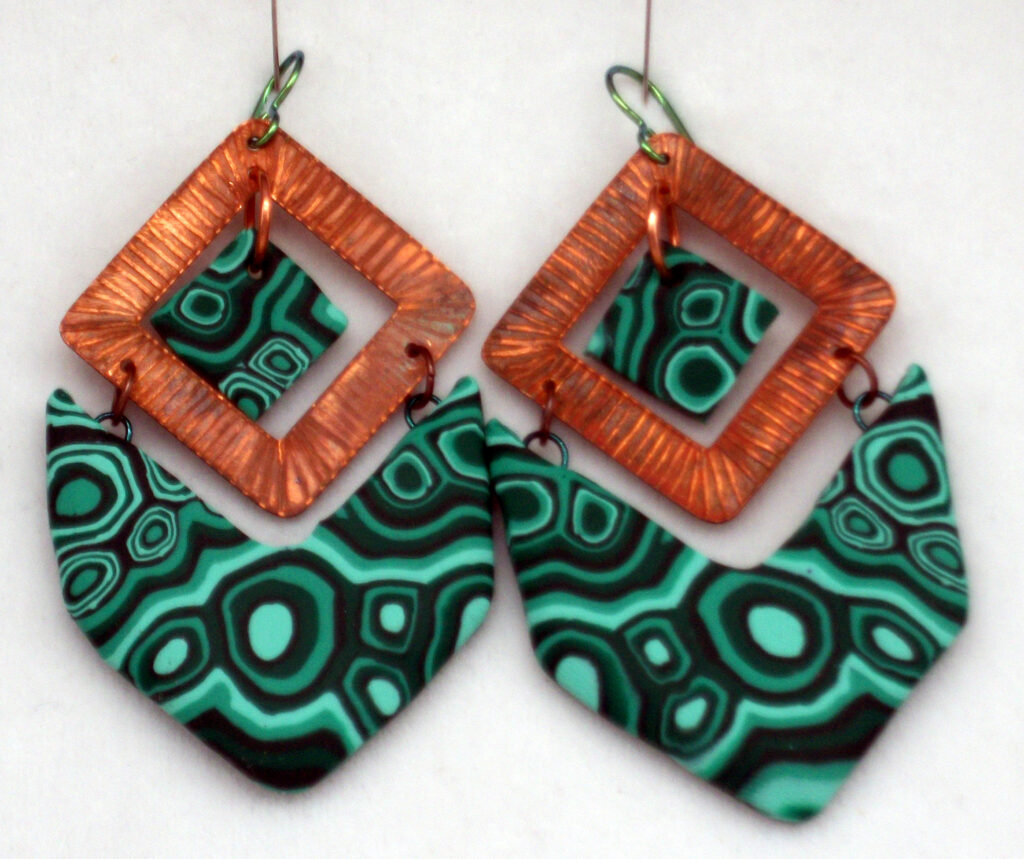 Etched Copper and Polymer Malachite Earrings
This workshop takes advantage of previous knowledge in creating etched copper pieces to be used with the polymer malachite veneer. Included in the workshop is a method for creating a malachite veneer from polymer clay that works well with the etched copper.
---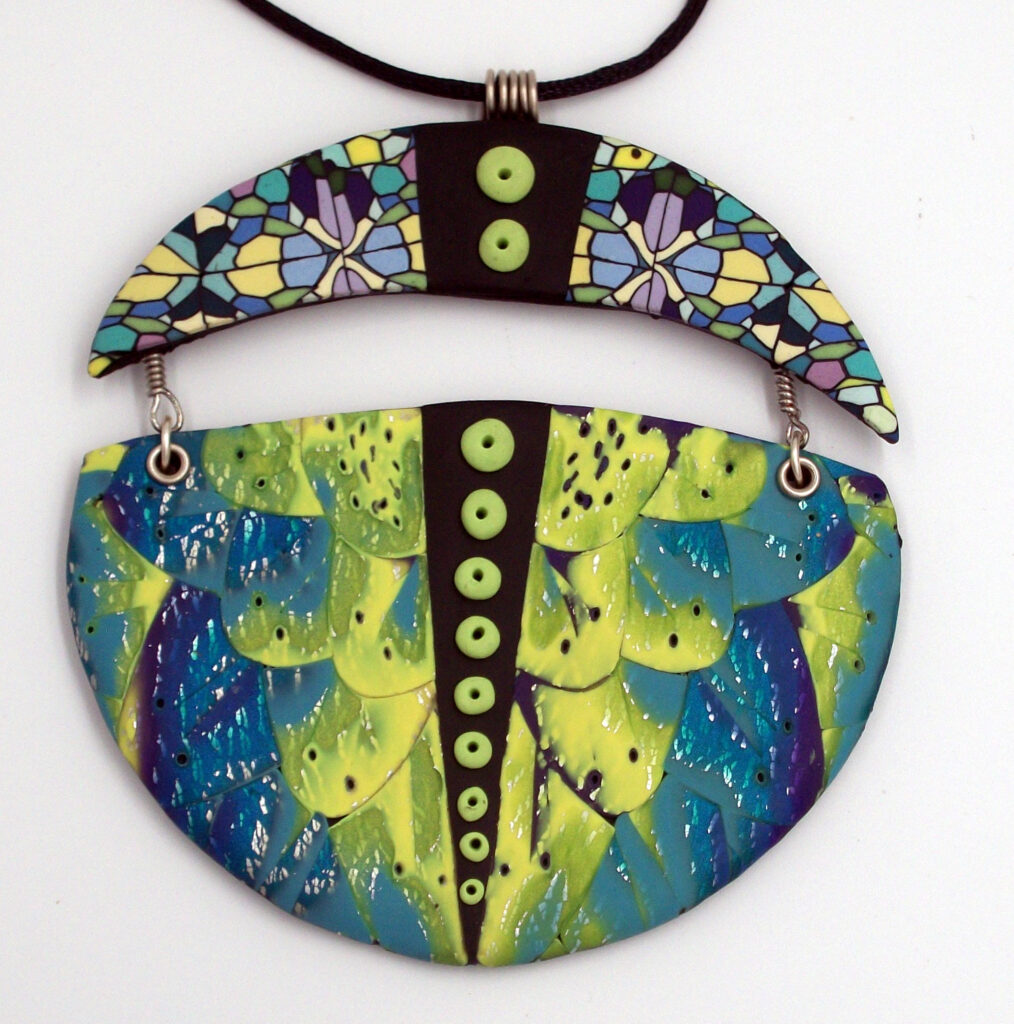 Mokume Gane Veneer – Mixed Media Pendant
Mokume Gane is a Japanese metalworking technique which produces a mixed-metal laminate with distinctive layered patterns, as well as that laminate itself. This technique has been "borrowed" by the polymer clay community to include layers of colored clay, metal leaf, and cutting techniques that would not work on real metal. This workshop includes one technique for creating that layered effect and incorporates it into mixed media earrings.
---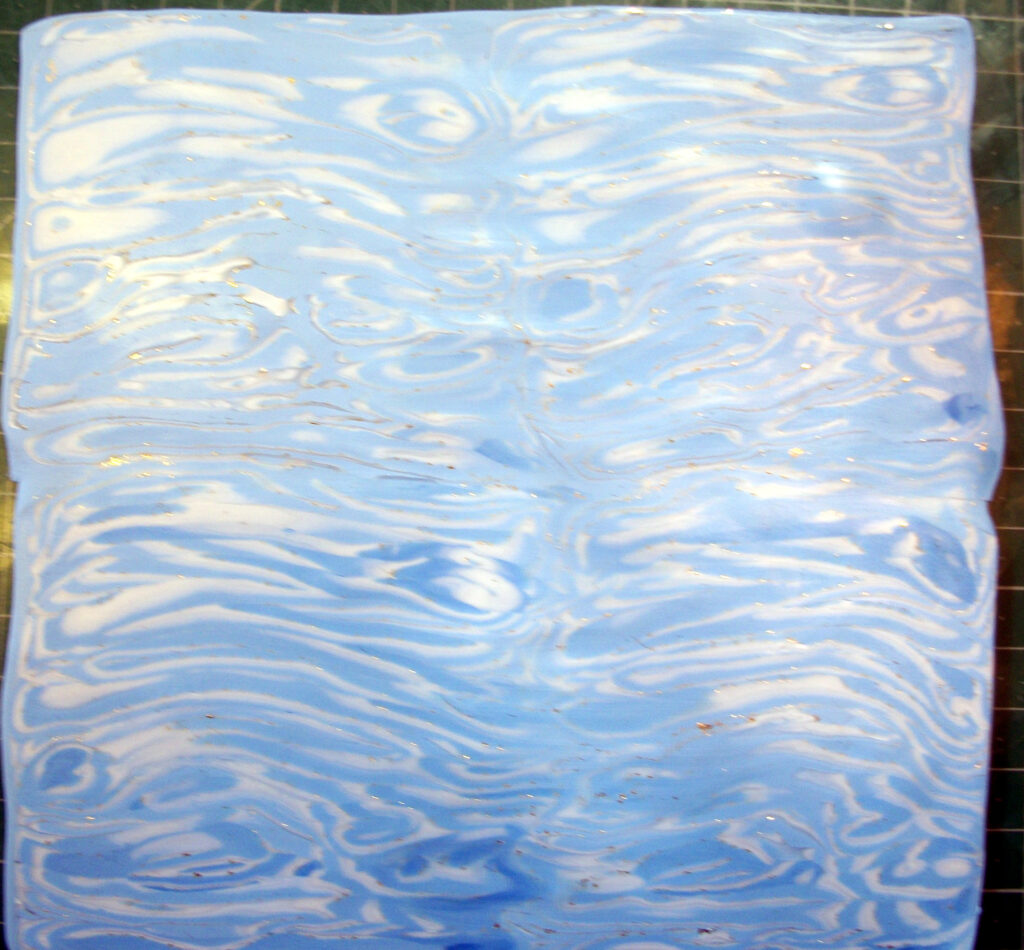 Mokume Gane Sky/Water Veneer
This workshop concentrates on one type of Mokume Gane veneer which is specifically meant for creating a water or sky effect. There are many techniques for combining the layers of clay and this was meant for a singular purpose, but can be expanded as the artist desires.
---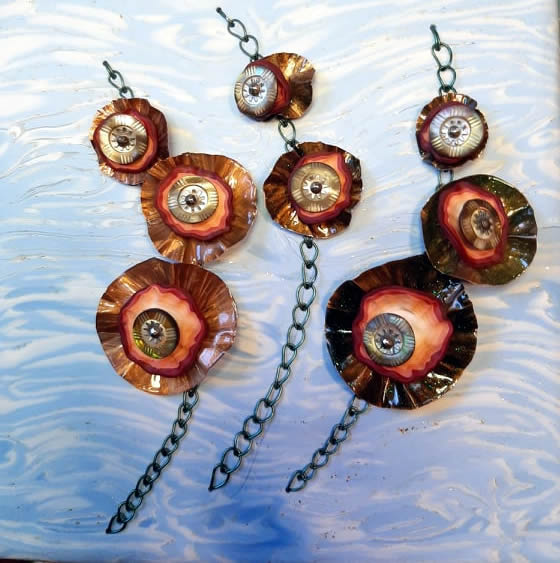 Mokume Gane Sky/Water Veneer Project
This twist on a standard Mokume Gane cane works wonderfully for a sky or water background, but in different colors can be used for other art pieces as desired. Now to make something out of it.
---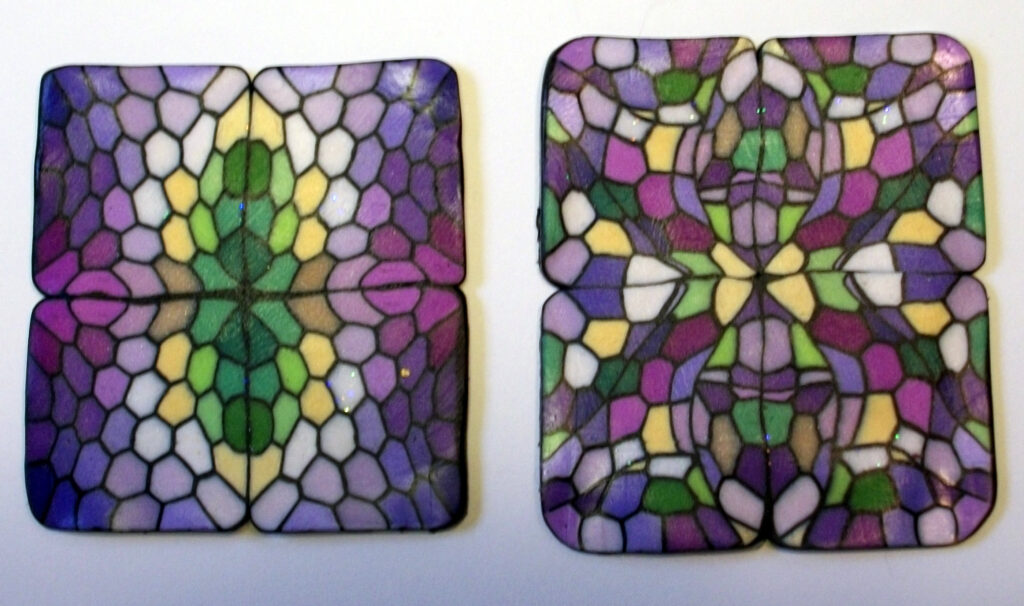 Matched Mosaic Canes
This workshop includes choosing a color palette with enough contrast to create an effective "stained glass" looking cane, but still be harmonious to the eye. These canes can be created in either a gradient or random pattern.
---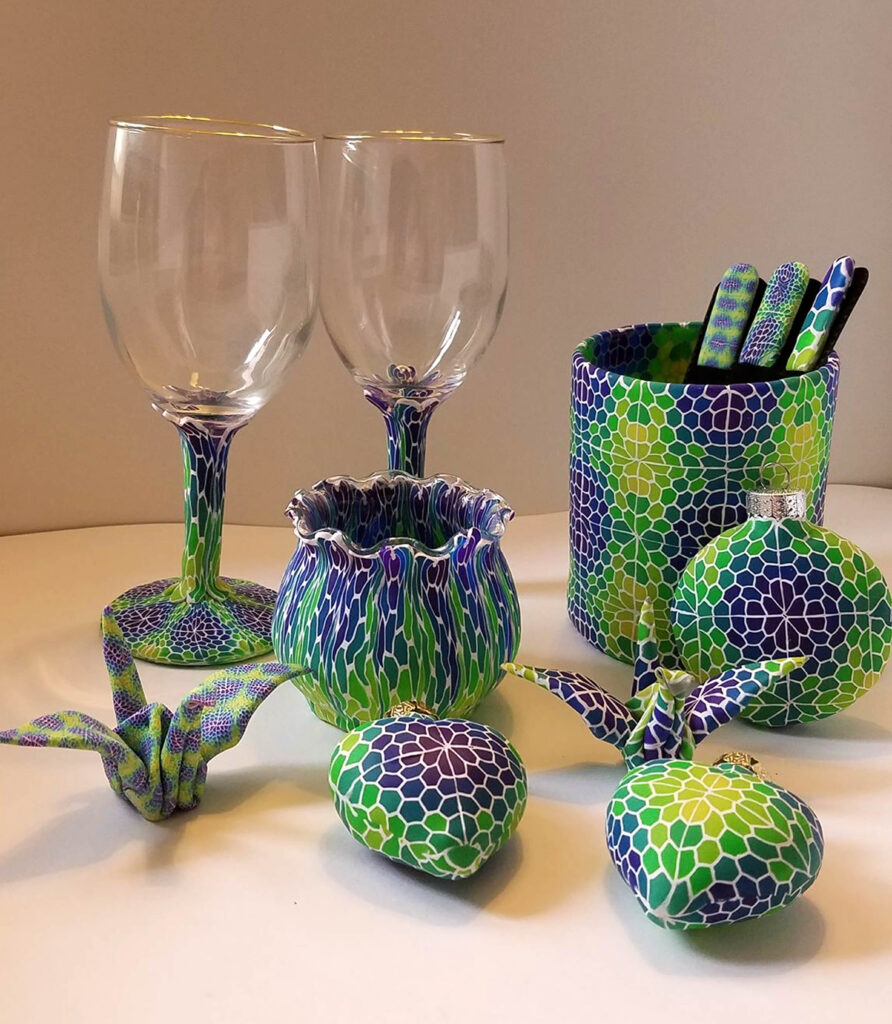 Matched Mosaic Veneer Projects
Now that you have the mosaic canes – what do you do with them? The canes will be transformed into sheets of clay which can be used to cover any number of items.
---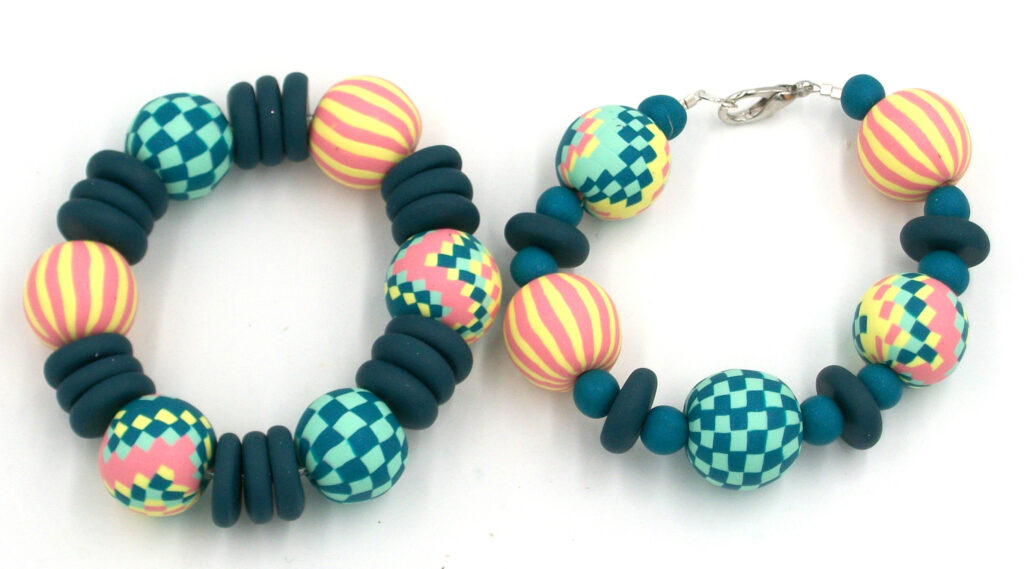 Polymer cutwork veneers
This workshop includes a kit with sheets of conditioned clay, glass beads to cover and the tools needed to create these cutwork beads. The techniques taught start with simple stripes, then checkerboard, and advance to bargello. The instructions also include creating hollow beads using the cutwork veneers. These cutwork techniques can be applied on a larger scale to other projects.
---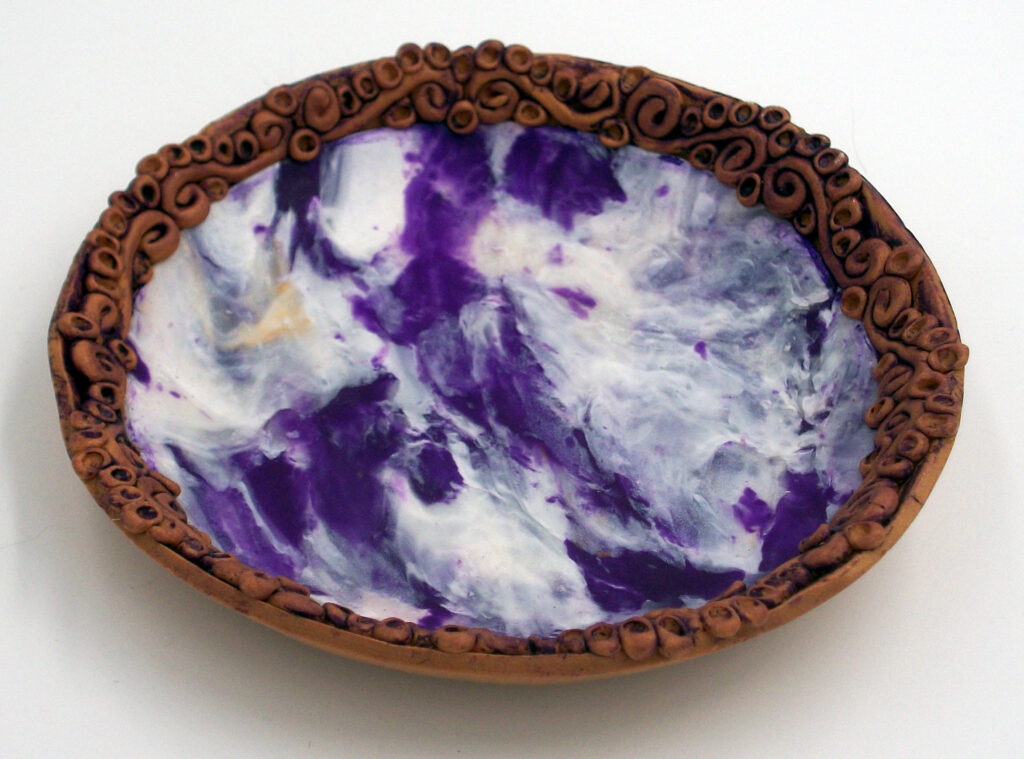 Polymer Morado Opal Veneer
This technique was inspired by a real Morado Opal which I used in a mixed media necklace. Unlike traditional opal, the purple opal does not contain the bright colors, but a lovely pearlized shimmer of white, gold, and purple.
---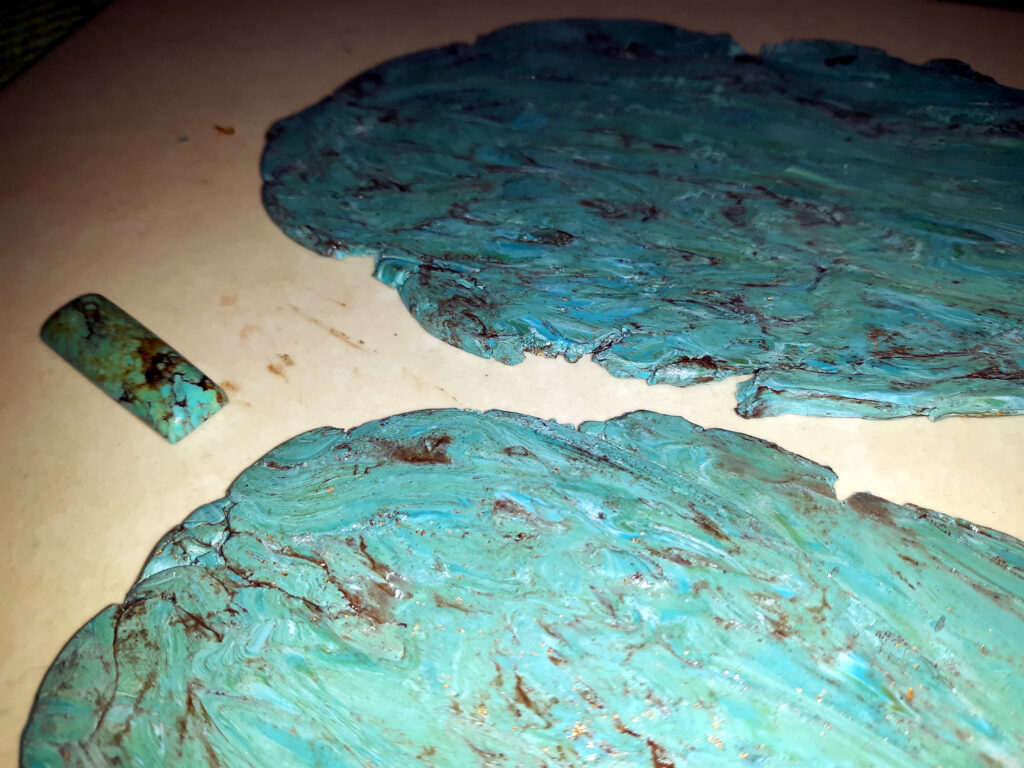 Polymer Turquoise Veneer
This workshop focuses on a specific colored turquoise polymer veneer usually found in Midwest American areas. By adjusting the color balance other varieties of turquoise may be obtained.
---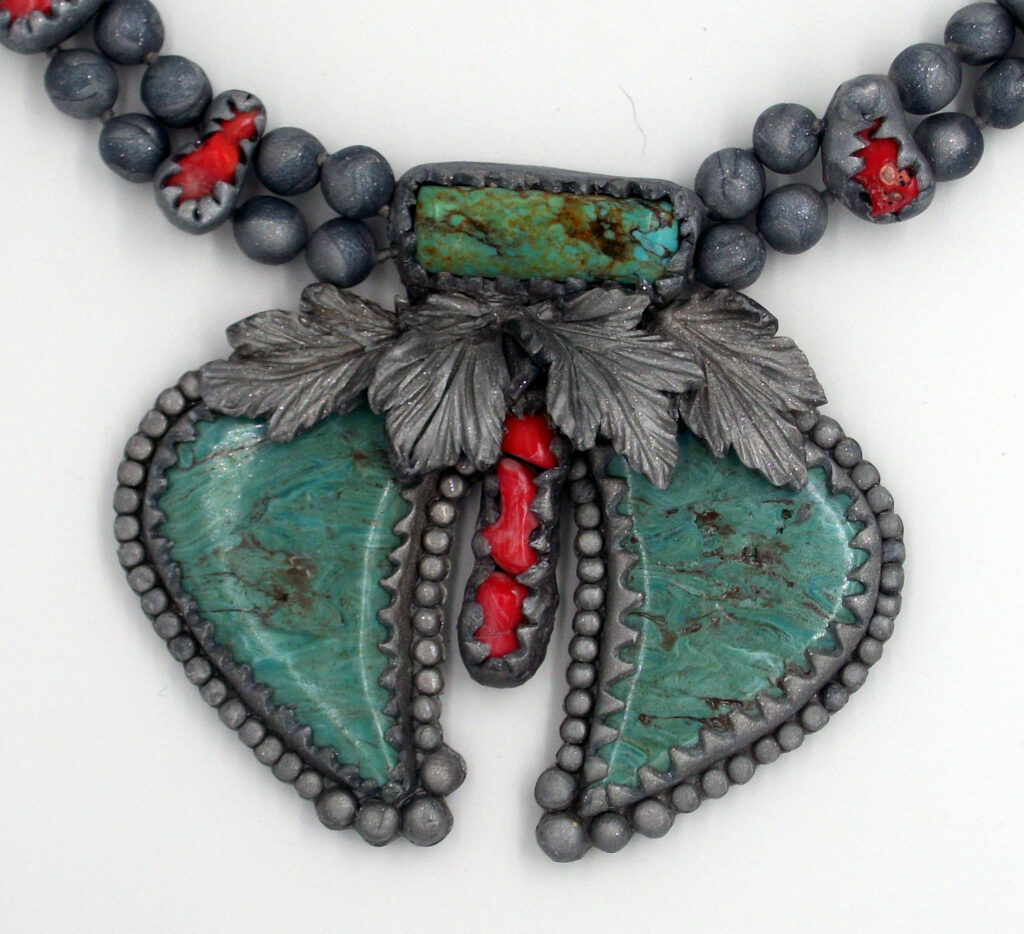 Polymer Turquoise Veneer – Squash Blossom Necklace
This workshop creates the turquoise blossoms framed in a silver setting. Also included are the spacer beads for a double strand traditional style squash blossom necklace. Pieces of real coral are included, but can also be made in polymer if desired.
---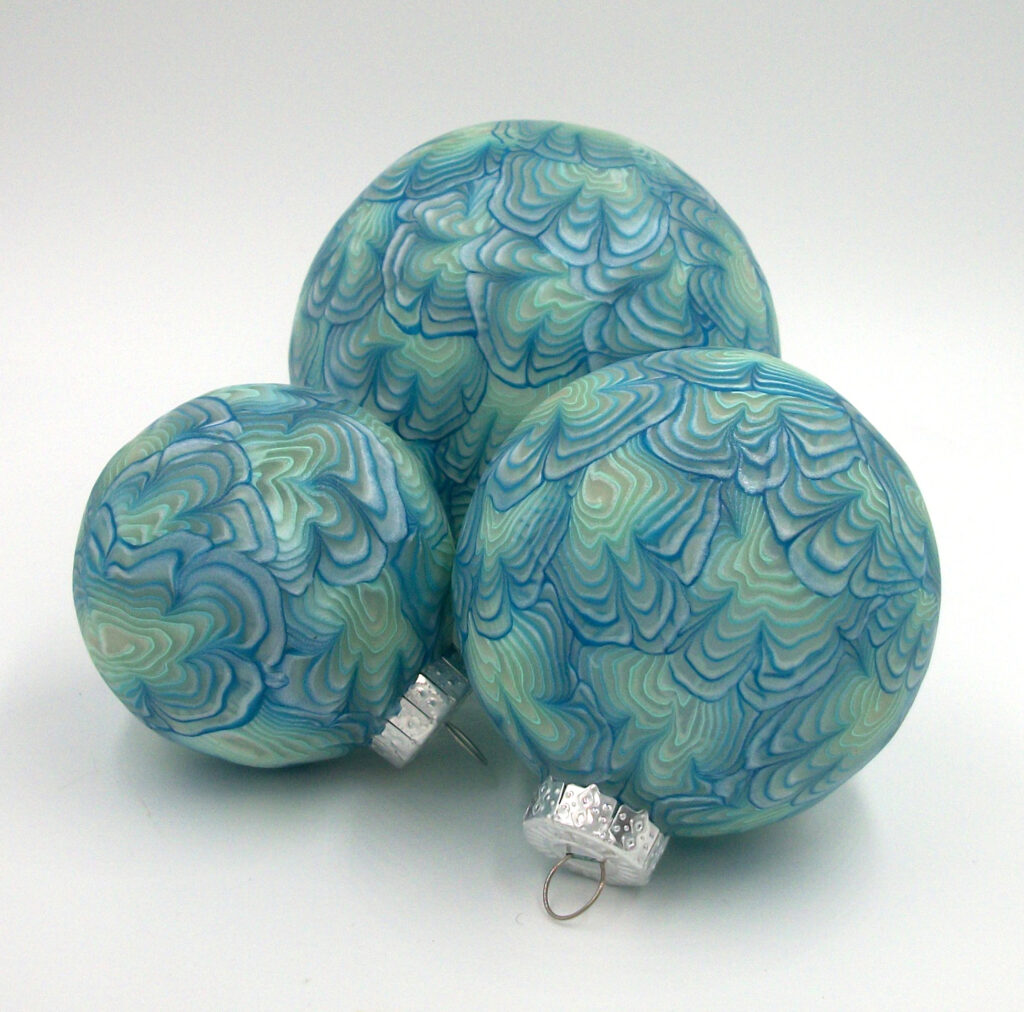 Chrysanthemum Cane Veneer
This workshop turns a traditional jelly roll into a beautiful flower. Slices of that cane can then be used to create a veneer sheet or cover a glass ornament or vase. The class will include a discussion of color choices.
---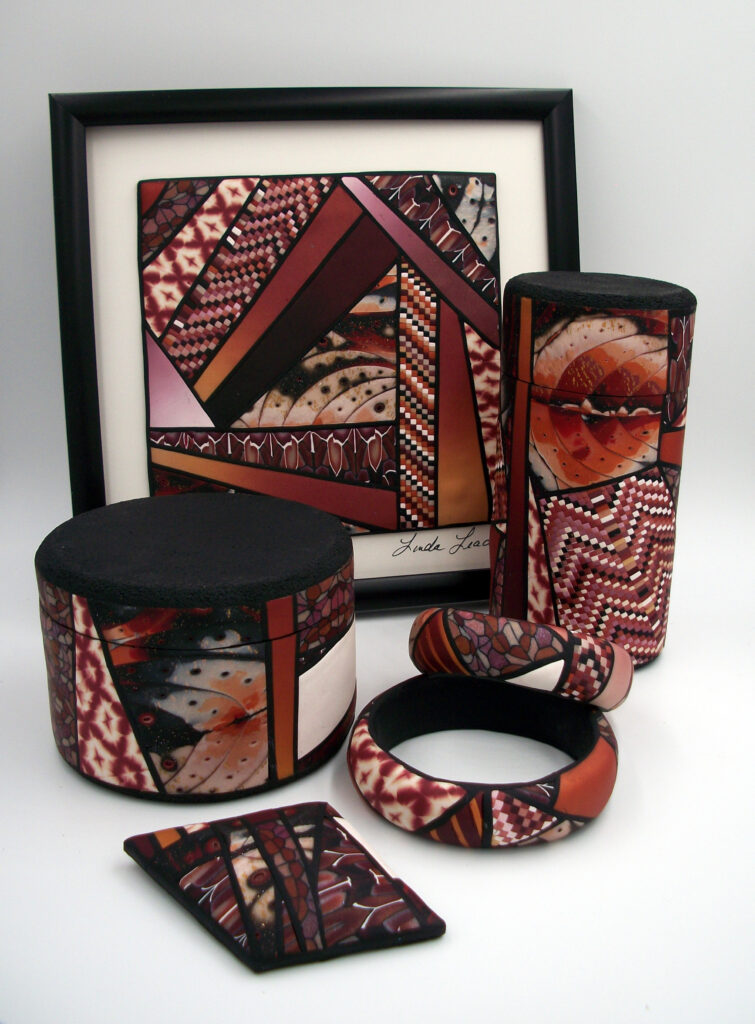 Not Your Grandmother's Crazy Quilt
This workshop features choosing a harmonious color palette and then creating polymer veneers using various techniques. The veneers are then cut and assembled with thin strips of dark clay between the pieces to create a large crazy quilt. Some quilt blocks are framed intact while others are cut up (sometimes very hard to do) to make other items such as gift boxes, vases, or jewelry. No two blocks are ever the same even using the same veneers which is delightful for me. Join me in creating wonderful quilt blocks for framing or other projects!
---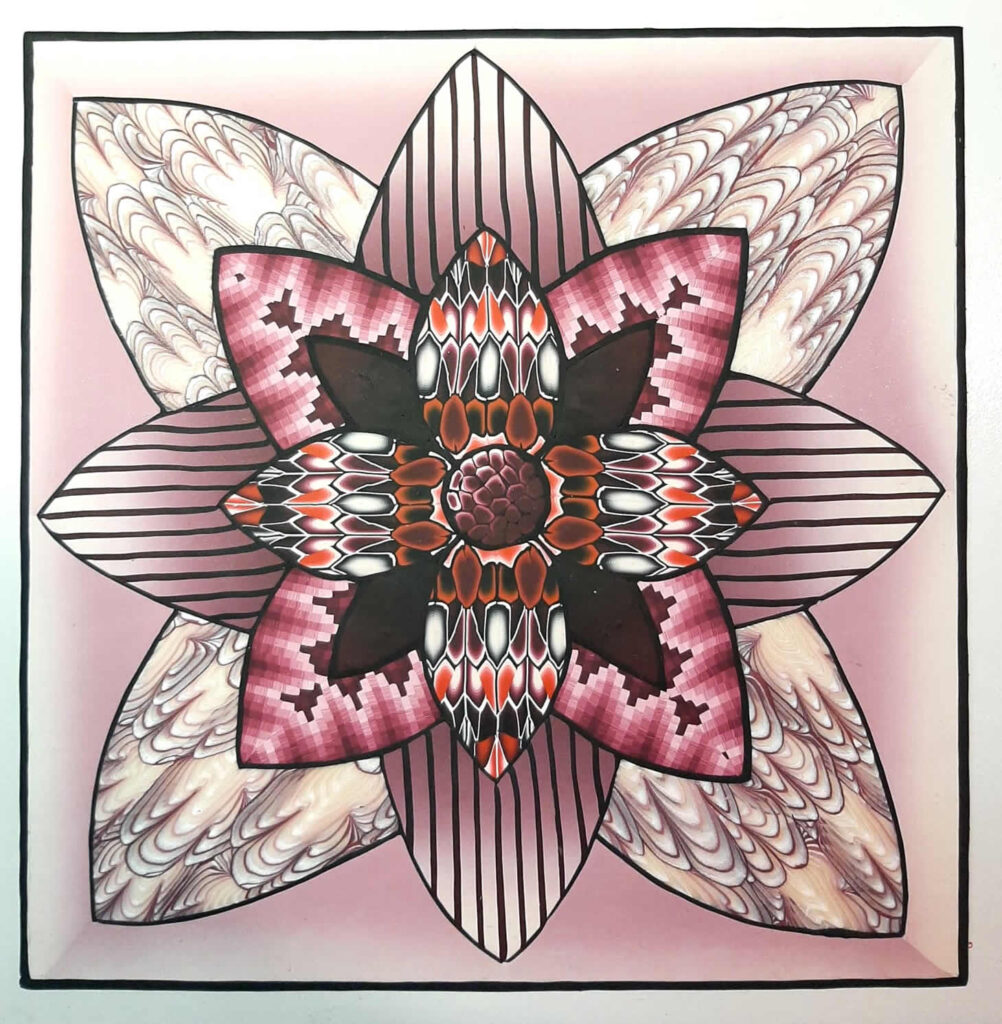 Traditional polymer Quilt Block
Creating a traditional style quilt block takes a bit of planning to make sure all the pieces fit together. This workshop starts with creating the pattern, then choosing the veneers, and finally cutting them to fit into the pattern. Color harmonizing and making sure the patterns coordinate is a large part of creating these traditional style quilt blocks.